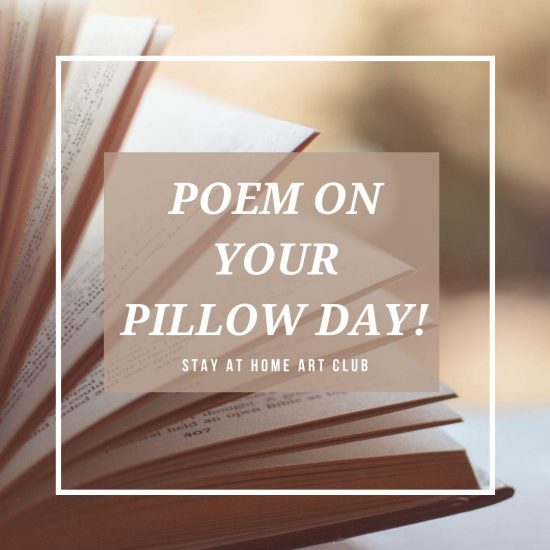 Day 31 - Poem on your Pillow Day!
Welcome to our Creative Writing Week at the Stay at Home Art Club. Today is Poem on your Pillow day - a chance to wake up and go to sleep with the magic of poetry!
Poem on Your Pillow Day was created by www.tweetspeakpoetry.com and celebrates poetry by encouraging observers to leave a small poem onto the pillow of a family member. Today we have an activity for all ages, we are asking you to celebrate Poem on your Pillow day by writing a short poem and leaving it on the pillow of your brother, sister, mum, dad or someone else in your household. It's a lovely way to get creative and brighten up someone else's day with the surprise of poetry! If aren't with the person you are writing your poem for why not text or email it to them instead.

You can use our acrostic poem prompt to help you write your poem. Once you have created your poem simply write it out neatly on a piece of paper and leave it on the pillow of someone in your home that needs a the pick me up of a poem. In an acrostic poem the first letter of each line spells a word or phrase. The word used for the acrostic is the subject of the poem. For our acrostic poem we are using the word DREAMS e.g:

Drifting off to dreamland,
Realms and new worlds await,
Every night is a new adventure,
And as morning comes near,
Magically it all fades away,
Soon I will wake.
If you want to write your own poem from scratch then use our tips below to help you to create a poem.
Before you start writing your poem think of a list of words that would describe your topic.
Use the list of words you made to start to help you write your poem.
Why not try and start with a statement or question about space to help you get your poem started.
Write your poem, then read it, think of what you could change to make it better. Keep doing this until you are happy with how your poem sounds.
Send us in pictures of any poems left on your pillow to our Facebook or Instagram Messenger so we can share them online and inspire others to get creative with poetry too!
Happy Poem on your Pillow Day!