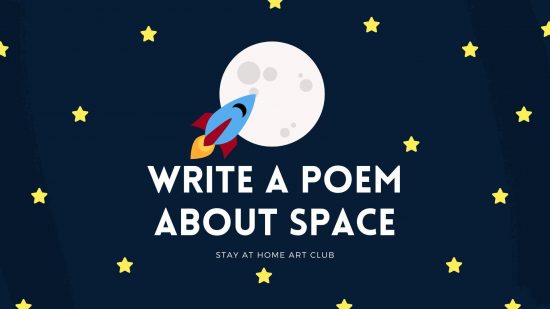 Day 20 - Write a Poem about Space
Welcome to day 20 of our Stay at Home Art Club Kids Challenge! Today we have a creative writing challenge for you. We are keeping with our Space theme and asking you to write a poem about outer space. Imagine what it would be like to be an astronaut in space, imagine everything you might see, how it would feel and use your imagination to help you write your poem. Here are a few tips for poem writing:
Before you start writing your poem think of a list of words that would describe your topic.
Use the list of words you made to start to help you write your poem.
Why not try and start with a statement or question about space to help you get your poem started.
Write your poem, then read it, think of what you could change to make it better. Keep doing this until you are happy with how your poem sounds.
Remember to send us in the poems you write, you could even draw a picture to go along with your poem. We want to share what you write online so we can inspire others and brighten everyones day.
Happy writing from all of us at Roe Valley Arts and Cultural Centre!