Puffin Rock by DOG EARS & CARTOON SALOON | 8 July to 26 August 2023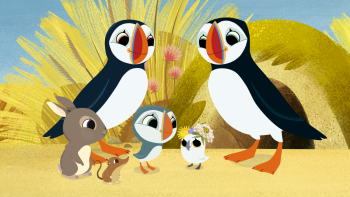 DOG EARS & CARTOON SALOON: Puffin Rock
8 July - 26 August 2023
The Puffin Rock Exhibition is a celebration of the award-winning pre-school animated show created by Dog Ears, Derry and Cartoon Saloon, Kilkenny. Puffin Rock has enjoyed global success since it began broadcasting in 2014 on Nickelodeon, RTE and is available on Netflix in multiple languages.
The Puffin Rock Exhibition coincides with the release of Puffin Rock and the New Friends movie, the first large scale animated movie to be made in Northern Ireland, due for release in cinemas this July. The exhibition features gorgeous artwork from the series and movie and explores the themes of friendship, environmental challenges and community, a must for all the family to enjoy!
Episodes of the TV series will screen for free at Flowerfield, Monday - Thursday 11 am - 4 pm throughout the exhibition.
EXHIBITION LAUNCH: Please join us on Saturday 8 July at 12.30 pm for the brand-new Puffin Rock and the New Friends movie which will be introduced by the Producers to mark the launch of this special Puffin Rock exhibition.