Still I Rise by DEIRDRE ROBB | 20 May to 24 June 2023
---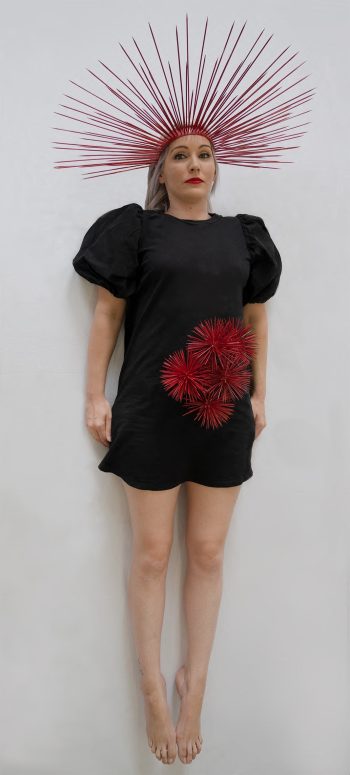 DEIRDRE ROBB: Still I Rise
20 May - 24 June 2023
Historic and contemporary cultural barriers have silently but powerfully influenced people's judgement, representation, and treatment of those often considered less worthy in society. Deirdre Robb challenges society's acceptance of inequalities in her work.
As an artist, Deirdre is drawn to the physicality of materials and objects, which she often uses in photographs, striving to go beyond the obvious and provide an experience in relation to the social issues that she is representing.
EXHIBITION LAUNCH: Please join us on Saturday 20 May at 1pm. All welcome.
ARTIST TALK: Saturday 20 May, 11:30am. Free but booking essential.
---
Born in Belfast in 1964, Deirdre Robb was educated at the University of Ulster, BA fine 1999 and Masters in 200. Her studio practice has an interdisciplinary approach including photography, installations, sculpture and performance-based practice. Her work is conceptually based which comments on political and cultural themes.
Robb's artworks have been widely exhibited with shows in Ireland, UK, Italy, Holland, Germany, Kentucky, Michigan, Nashville, Ohio and Australia. She has also been awarded residencies in Louisville, Artopia & Water Tower, Italy in Pauda, Katoomba near Sydney and Tyrone Guthrie in Ireland. Art festivals and programmes that she has been selected to participated in are 'Passion for Freedom' in London 'Free City 'in Flint, USA, 'Scenic World' Sculpture exhibition in the Blue Mountains Rain Forest, The 'Grasses' project in Kentucky, Locally she has exhibited regularly in the International Belfast Festival at Queen's, Eastside Arts Festival, Women's Work Festival through Oh Yeah Music Centre and Mayhem Festival in Dublin's Livestock performance art centre.
She creates permanent and temporary public artworks and socially engaged programmes such as the 'Starlings' 'Urban Meadows' & 'Wall of Hope' and the large-scale 'Art in the Eastside' programme which Robb managed from 2009 -2016 presenting artworks from local, national and International artists on billboards and outdoor temporary Installations