Dreamer's Space Art Trail launched January 2020
3rd February 2020
The Dreamer's Space Trail, created by artist/animator Corrina Askin was officially launched on 17 January 2020.
The permanent art trail is located throughout the Arts Centre building and Flowerfield Park. Created during her six-month residency as our first Springhall Artist in Residence, the trail features internal new signage and discreet illustrations and activities in the venue and storytiles, tree-seat and direction sign outside in the Park.
Dreamer's Space invites you to explore and imagine. It celebrates creativity in all its guises and the power of the imagination, drawing together elements of art, nature and the environment, philosophy and mindfulness. In a world where everything is fast paced and busy, Dreamer's Space reminds you of the important of relaxation and stillness. It is for everyone and every age - it encourages play and invention, thought, respect and self-awareness.
The Springhall Artist in Residence Scheme is made possible by the generous bequest of local resident and Flowerfield patron, John Onslow Springhall, allowing artists of different disciplines to have time to develop their own creative work, inspired by the Causeway Coast and Glens area, and to share their skills and creativity with our local communities through a community engagement programme.
All visitors can pick up their Dreamer's Space booklet to doodle and draw, along with a Treasure map to guide you on the trail.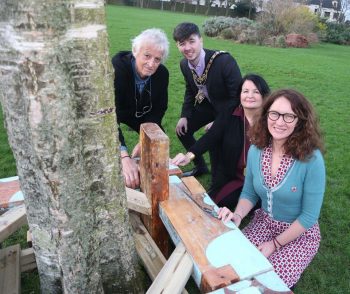 ---
Share This Story