The house was acquired by Coleraine Borough Council in 1973 and was the first Arts Centre to be opened in Northern Ireland when it re-opened in that role in 1980.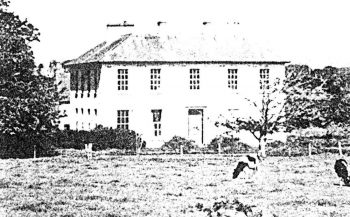 The Ulster Architectural Heritage Society reported in its 1971 list of historic buildings that the house was 'derelict and fast falling into decay'. The house was thankfully rescued from the fate that was to befall so many houses of that era.
It is in fact the second house to be built on the site. The Kerr family from Scotland were the first to settle on the estate, around the time of the Plantation of Ulster, with the first Flowerfield House being built in 1710. The house then passed into the hands of the O'Hara family and at one point hosted an unwelcome visitor in the shape of 'Half Hanged McNaughten'.
McNaughten was on the run from the law when, according to the account of the time, he dived into Flowerfield House and hid from the soldiers – under the skirts of one of the ladies in the drawing room at the time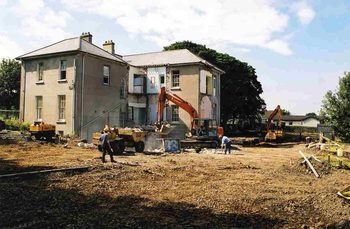 During the time of the agrarian unrest at the end of the 18th century, when the 'Hearts of Steel' were terrorising Ulster, Mrs. Eliza O'Neill, who lived in the house at the time, wrote a letter which showed the house under a state of siege: "We have bags of sand nailed up in most of the windows to keep out their balls," she wrote. "And plenty of charges ready made in paper, to charge the faster, and six guns always ready."
The 'new' house – the elegant building which occupies the centre of the 2003 redevelopment – was built by Samuel Orr around 1855. After his death in 1869 the house was occupied for a time by Major Alexander Shuldham from County Longford, who died in 1876.
Charles and Muriel Munro rented the house from about 1922, until Charles' death in 1952. Muriel Munro continued to live at Flowerfield until 1962, until the house became vacant and remained so until its acquisition by Coleraine Borough Council.

Material sourced from Peggy Vowles' article on Flowerfield in The Bann Disc, Journal of Coleraine Historical Society, Vol. 3