28th March 2023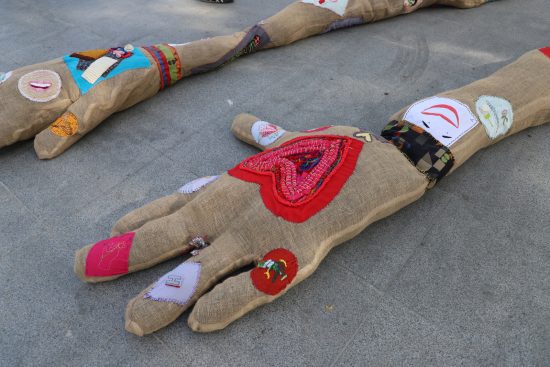 This summer and we invite you to take part in an innovative participatory textiles project that will provide you with the opportunity to reunite, reconnect and reflect following the pandemic.
This unique project, initially delivered in Monterrey, Mexico during spring 2022 sees talented artists Tere Chad and Cordelia Rizzo join us for a summer residency. Employing the practice of arpillera, also known as burlap techniques, the project aims to craft a large textile piece, symbolising an embrace. Using recycled materials, it will promote sustainability in response to fast fashion's damaging impact on the environment. Both this and the Monterrey project draw inspiration from Chilean arpilleras from the Conflict Textiles collection, forged through previous collaborations (Woven Hug (Abrazo Entramado).
This project will be a real community effort and you can participate in two ways - by either donating fabric to Flowerfield until 19th June or by joining one of the free workshops to help design and embroider embellishments that will be attached to an outdoor sculpture.
These workshops will provide participants with a space to reflect on various topics that will be woven into the final sculpture including Northern Ireland society post-Good Friday Agreement, the textile heritage of the region, the historical role of women in society, our beautiful landscapes, and the impact of climate change upon them.

The finished piece will be two arms extending from the first-floor façade of Flowerfield Arts Centre and will be displayed through the summer months.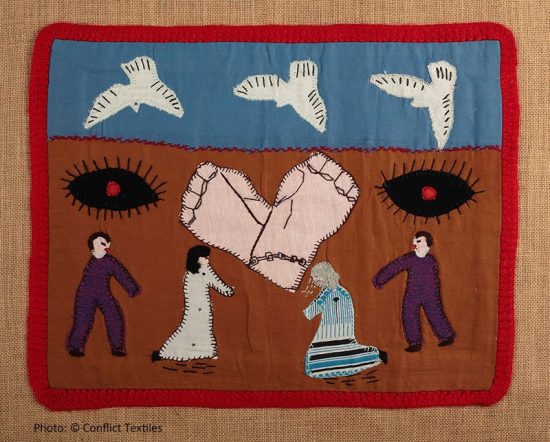 GET INVOLVED
Fabric Donations - Clean, dry fabric or any size can be donated at Flowerfield Arts Centre, R-Space Gallery, Ulster University & Queen's University Belfast. Donations will be accepted until 19th June.


Family Workshops | FREE | Saturday 24 June and 1 July, 10.30 am – 12.30pm and 12.30 – 3.30pm. Open to All. Book Online


Community Textile Workshops | Monday – Friday, 19 June–5 July | 1.30 –4.30pm. Open to Community Groups. Contact Amy.Donaghey@causewaycoastandglens.gov.uk to find out more.

Workshop with talk by Dr. Cliff Henry (National Trust) The Tiny, the Rare and the Weird Wildlife at the Giant's Causeway | Wednesday 22nd June | 1.30 - 4:30pm


Conflict Textiles Workshop | Tuesday 27 June | 1.30 - 4.30 Contact Amy.Donaghey@causewaycoastandglens.gov.uk to find out more.


Open Air Performance by Chilean musician Victor Henriquez | Saturday 24 June | 12.30 - 13.30 | FREE
Panel Discussion | Thursday 29 June | 7pm: Reflections on our textile heritage and its political and environmental impact.


Launch Event | Thursday 6 July | 7pm


Exhibition | 6 July - 31 August (weather permitting)
This project, which is delivered in partnership with Linen Biennale, Ulster University, Queen's University and Conflict Textiles, and supported by using public funding by the National Lottery through Arts Council England and the Buffett Institute for Global Affairs.

Cordelia Rizzo and Tere Chad are the Artists in Residence delivering Woven Hug. Cordelia Rizzo is an academic, activist, and textile creator from Monterrey, Mexico, currently based in Chicago. Her textile work began with her activism with the initiative Embroidering for Peace in her hometown and explores the affective bond between the maker, the materials, and the space-territory in which the works are experienced.
Tere Chad is a Chilean artist and curator based in London, and her artistic research is closely focused on promoting sustainable practices, reconnecting with our tactility, and Latin American culture.
Learn more about Woven Hug: www.terechad.com/abrazo-entram...
---
---
Share This Story