27th March 2020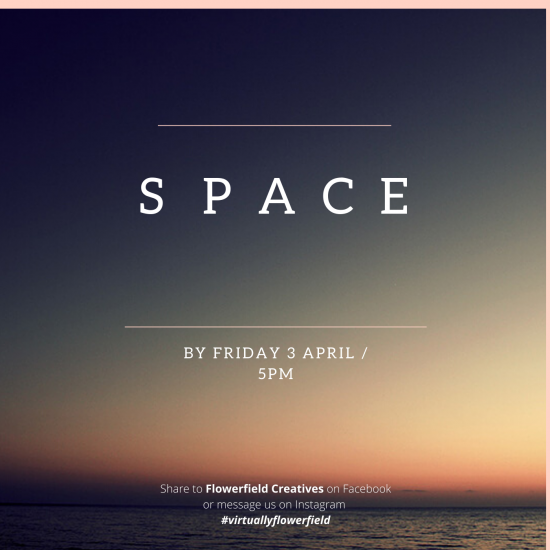 ***CALLING ALL CREATIVES***
We are hosting our first #virtuallyflowerfield online exhibition during April which will be shared on this website, as well as across our social media platforms.
A way of supporting borough creatives to remain connect through this virtual project, boost practitioners' profiles, and celebrate the wealth of creativity on our doorstep, 'Space' is the first of our online exhibitions.
In the climate of Covid-19, all of us have been reflecting on space recently... in terms of being isolated, remote, more aware of personal physical, mental and emotional boundaries..both inside the home and public social distancing.
Work can be any discipline - a doodle, a haiku, a painting, performance or print.
🚦Deadline is next Friday 3 April, 5pm. The exhibition and promotion will close on 30 April, followed by our next #virtuallyflowerfield exhibition.
🚦Please share a good high-res image/video of your work to the Flowerfield Creatives Facebook page, with name, title, medium (if applicable). All disciplines welcome, including visual arts, craft, dance, performance, music, writing, verbal arts.
🚦 You can also message us on Instagram
🚦Feel free to share on your own and other online forums... always use the hashtag #virtuallyflowerfield so that we know you're there!
🚦We will upload as virtual exhibition on our website, create exhibition folder on our Facebook page and share/promote as much as possible..but let's all support and promote all of the work submitted, thank you.
🚦If you're interested in selling, include price and dimensions . We will NOT be taking any sales commission as we realise this is such a difficult time for all in the creative sector.
We're really looking forward to seeing what surfaces x
---
Share This Story