20th April 2023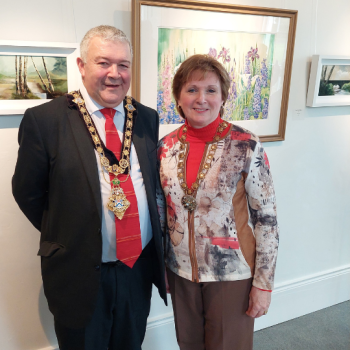 We were delighted to host the Launch Event for the The Ulster Society of Women Artists Exhibition on Saturday 1st April.
This exhibition showcases recent work by members who are Diploma Holders within the Society and those who won prizes at the 65th Annual Exhibition. The Society's membership is an eclectic mix of women, from professional artists, some of whom are also Royal Ulster Academicians, to those with degrees in art and some very talented artists who have no formal training.

They work in a wide variety of mediums but what they all have in common is their passion to create and to share that passion with others.
---
Catherine Flood, ASU, PSI, USWA,Dip.

Painting and teaching art for 35 years, I designed an illustrated guide for Cushendun development association, and an illustrated poster for Cushendall tourism.
Chosen by the Ulster Women Artists Society to exhibit in Washington State titled "Millennium Images Ireland and America", my pictorial journals were displayed at the Fine Arts Centre in Seattle.
Three paintings were reproduced as exhibition posters for the Pastel Society of Ireland.
Liam Neeson owns two of my paintings, one presented to him by the Borough of Ballymena.
My work, inspired by the beauty of Co. Antrim is on sale at Midtown Makers, Church Street, Ballymena.
---
Sorrel wills BA (hons) Fine Craft Design PPUSWA (Dip)
Sorrel Studied at University of Ulster to gain her Bachelor's Degree. She then pursued careers as a ceramic artist and interior designer before devoting her time to her art as a painter and art tutor, teaching adults in classes and holding plein-air groups.
She specialises in oils and pastels and many subjects spark her imagination, although almost always with the common thread of depicting the light effects on her subject matter. She paints in a loose style born from the Impressionist tradition. Sorrel is honoured to be a Past President of Ulster Society of Women Artists, joining the society in 2016, and has won three awards for paintings in USWA Annual exhibitions. She has work in local and international private collections and has fulfilled many private commissions. She has had 6 solo exhibitions and her work can be also found in The Yard Gallery in Holywood and The Doghouse Gallery in Comber.
---
Elaine Murdock

North-coast artist whose work pays homage to the stunning local landscape. She is driven by a desire to capture it's poetic and often fleeting variations.
---
Rosalind McConaghy
Rosalind McConaghy née Brown was born in Ballymoney and now lives in Holywood. She works in a variety of media. Subject matter often involves nature, flowers, places she loves, still life, objects and memories from the past, seascapes and landscapes. She has a substantial body of work which can be viewed at her studio. https://www.rosalindmcconaghy.com/
---
---
Lesley Ann Sharp
Lesley lives in the hills above Antrim at the hilltop farm shares with her family and pets. She draws her inspiration from her horses, cats, dogs and grandchildren.
Pipsqueak is a rescued miniature Shetland pony. He provides a willing if very hairy model for Lesley. Here, he is portrayed in acrylic paint, framed by Lesley who is a picture framer of over 20 years.
Evie's Portrait is a watercolour. Here, she is caught taking a nap when feeling under the weather.
Lesley's favourite medium is watercolour, but she loves using a wide range of materials.
---
Sinead Farry
Sinead Farry graduated from the University of Brighton with an Honours degree in Visual Communication (Illustration), then a Masters Degree in Communication Design (Illustration) from the Royal College of Art in London. Sinead feels a deep connection with the natural world and loves the variety in the landscape around her, from the peaks of the Mourne Mountains to the haven of her garden. This love comes across in Sinead's lyrical and sensitive paintings. Sinead enjoys painting in various media including oils, acrylic and egg tempera.
---
---
Helen Sanlon
Helen Sanlon is a professional, visual, mixed media artist working from her Green Road Studio in Belfast. She exhibits widely at home and abroad and has work in many public and private collections.
Her present body of work was inspired during covid restrictions when she spent one day a week, for 18 months, sketching and painting in a public walled garden.
---
Catherine McKeever Pres. USWA
Bluebells
Every year I paint the Bluebells in Portglenone. I just love the play of light through the trees onto the flowers below and how that sunlight changes the shades of colour in the carpet of flowers. Each year I visit it is like seeing the bluebell woods for the first time, it is always a joy. This painting is pastel on white Pastelmat Paper.
Sunset Over Lough Neagh
This view of Lough Neagh was taken at the Marina in Antrim Town on a lovely Autumn evening just before the sun set below the waves. It always amazes me how vibrant a sunset can be and how quickly it disappears. It is such a fleeting moment to capture in paint. In this case I used pastels on Pastelmat paper. It is a wonderful opportunity to use all those glorious bright colours that I rarely get to use.
---
Jacque McNeill B.Des
I Graduated from University of Ulster Belfast with a Bachelor of Design and began teaching at North Regional College
I live in Co.Antrim and am passionate about painting outdoors in the stunning landscape which surrounds me, trying to capture the landscape before it changes.
Recently three solo exhibitions have been on show in the Braid Arts Centre. As an original member of the Midtown Makers Studio in and shop I have my work permanently there on my stand in Ballymena. I am also a member of the Ulster Watercolour Society.
facebook jacquemcneillpaintings
Instagram @jacquemcneillpaintings
---
Kate Rocks
Living on the beautiful North Antrim coast , I have inspiration on my doorstep, whether it be land or sea . There is always something new to see when I am out and about. I paint mainly in oils . My paintings are representational but at times a bit of abstraction is added and at times I like to add an ethereal quality. I paint because I love it , and I realise that to me, painting is a constant learning process and I am the willing student.
---
Helen Condy
Helen studied at Belfast Art College and subsequently worked for three years as a textile designer. She normally uses the medium of watercolour and specialises in natural subjects with the emphasis on detail.
She has taught art classes for adults in Castlereagh College, Ballyearl Arts Centre and Queens University Belfast. She has organised weekend workshops in landscape paintings based in the Mournes and in Kesh, Co Fermanagh.
Helen is a Past President of the Ulster Society of Women Artists, Arts Society of Ulster and a member of the Ulster Watercolour Society. She has exhibited widely in Northern Ireland as well as Dublin, London and the United States.
She is married with three children and five grandchildren. Her hobbies include weekly games of tennis and badminton.
---
Jakki Trainor
One for Sorrow – ceramic panel
Listening to the raucous chattering of our resident garden magpies and watching their confident posturing in front of my two cats prompted me to explore their somewhat maligned personalities in my work.
Folklore, storytelling, myths and superstitions abound about magpies across the globe providing me with a wealth of ideas for exploring their nature and our human perception of them. This work is the first of a series of planned pieces investigating how humans view the birds while also recording their wonderful forms, actions and attitudes. 'One for Sorrow' records the arrogant stance of a bird confident in its own beautiful feathers while paying a nod to the old English tradition of saluting magpies to ward off bad luck. Coming across a lone magpie the correct procedure is to say "Hello Mr. Magpie. How are Mrs. Magpie and all the little magpies?" The superstitious can double down on these defences by spitting three times over their shoulders and flapping their arms like wings. The gold ring held in its beak pays tribute to the widely held belief that the birds are prone to larceny and seek out glittering prizes.
The ceramic panel is modelled by hand, bearing marks and textures to capture the bird's iconic plumage. The gold ring contrasts strikingly against the darker glazes bringing the piece to life.
---
Janice Lightowler BA(Hons), ASU, Dip USWA
Janice is a multi-award-winning artist who enjoys creating naturalistic images of the world around us. Each piece is characterised by radiant luminosity combined with a deep richness of colour and intense observation.
She uses oil paint to portray her meticulous attention to detail. One small brush is used to create each painting and this is attached to the back of the canvas as a hallmark of Janice's work.
facebook.com/janice.lightowler
---
Pat McLaughlin
BA(hons) Woven Textiles – Farnham College of Art, MPhil – University of Ulster.
Pat McLaughlin is a Diploma Member of the Ulster Society of Women Artists and a Member of the Ulster Watercolour Society. Her work is in private collections on the UK and Ireland.
Her paintings are inspired by sketching and drawing on location. The challenge is the ever changing light and shadows, movement of water, pattern of landscape and the atmosphere of the subject, rather than exact detail. Working on location enables her to paint faster which brings energy and immediacy to the final paintings.
---
Jenny Hamilton
Jenny Hamilton is a Belfast born artist living and working in the city. With a degree in Fine and Applied Art from the University of Ulster, Jenny enjoys working in a wide range of media and is mainly known for her commissioned watercolours and oil paintings. Her recent work features paintings of plants and flowers, particularly those from her own garden and from her friends and family. She uses a variety of techniques in layers of oils, acrylics and pastels on canvas to capture the subtle colours, depth and detail of the subject. Spring is a favourite time of year for Jenny as her garden comes to life, the days lengthen, and the colours of the new season reveal themselves and provide the ever renewing inspiration for her work.
---
Margaret Mathews
Margaret Mathews is a long term member and previous Hon Sec of the USWA. She is a retired dentist, who practised in Islandmagee and Whitehead for many years. She has had a lifelong interest in drawing and painting in various media - after developing an allergy to oils, acrylics became a new favourite along with pastels, watercolours and various mixed media. Her favourite subjects are equestrian, portraiture and still life paintings. She spends time each year in the South of France where the way of life, people, landscape and history are a constant and fascinating source of inspiration.
---
Judith Logan PPUSWA
Judith works in a variety of media, which she finds encourages creativity, with one medium feeding off the other. Women feature regularly in her depictions of everyday life and imaginary places, with her love of pattern, colour and visual storytelling. Having previously lived abroad, notably in Chile for ten years, her work sometimes tackles deeper themes, such as belonging, acceptance and loss. Lately, she has been exploring collagraph printmaking, a form of printmaking with a myriad of possibilities. The artist makes hers by cutting into mountboard or cardboard, removing and adding papers, recycled parts of old drawings or paintings as well as found objects. The resulting printing plate can be inked up in several different ways, and/or embellished with other media once dry, producing truly unique images with each print.
---
Margaret Brand FILS, ASU (Dip.), USWA (Dip.)
Margaret has sold her paintings to both private and public collections around the world and is a past president of Ulster Society of Women Artists.
Currently, Margaret's work is evolving in a purely abstract direction as she experiments with space, colour and an endless variety of mark-making to express her responses to the world around her.
Most recently, Margaret has had five of her paintings published in a book on modern art, 'The Adjacent Possible', by the American artist and author, Nancy Hillis. This book has just been awarded the Book Excellence Award for art by Amazon.com.
---
Samantha Ellis Fox (Northern Irish Born 1969.)
In 2021 Samantha Ellis Fox exhibited at the prestigious Royal Society of Portrait Painters, Mall Galleries London. In 2019, Samantha has had work accepted at three Royal Art Academies; The Royal Hibernian Academy, 189th Annual Exhibition, Dublin, Royal Ulster Academy 138th Annual Exhibition, Belfast and The Royal Scottish Academy, 193rd Annual Exhibition, Edinburgh. In 2022 Samantha's work was accepted at the ING Discerning Eye Exhibition at the Mall Galleries in London where she was overall regional winner for Northern Ireland. Her work is held in private and public collections including that of the Office of Public Works and the Northern Ireland Department of Finance and Personnel. Her work has also been recently included in The Public Catalogue Foundation "Oil Paintings in Public Ownership". Over the "Lock Down" period Samantha was involved in Portraits for Heroes initiative,and the "The Drawing Box" initiative where she created five A5 small pieces on paper and these have travelled together with other international artists worldwide including New Mexico, Australia, Lithuania, Scotland and Belgium, which have since been bought by the National Archives of Ireland and will remain in public ownership. Her work focuses on the portrait of the child, where Samantha makes use of a variety of mediums: oil, graphite, & charcoal. Samantha has been recently invited to produce portrait work for an exhibition in LA, at the Sasse Museum of Art.
---
Harriet Ennis. NDD
Studied Painting and Lithography at Belfast, followed by Post graduate Diploma in Silversmithing and Jewellery. Teaching career in Scotland and Belfast, ending in Stranmillis U. College. Recent interest writing books for children, based on her own much loved rescue dog.
---
Barbara Ellison
Barbara Ellison studied at Belfast College of Art and became a full time painter after retiring from lecturing at Stranmillis University College.
She experiments constantly, exploiting random effects while underpinning her work with strong draughtsmanship. Using line and colour intuitively she creates an artwork which contains a logic, coherence and a life of its own while expressing her personal response to landscape, still life and figures.
She is a member of the Watercolour Society of Ireland, the Ulster Watercolour Society and is a Past President of the Ulster Society of Women Artists. She has exhibited widely and has gained multiple awards.
---
Share This Story