6th March 2020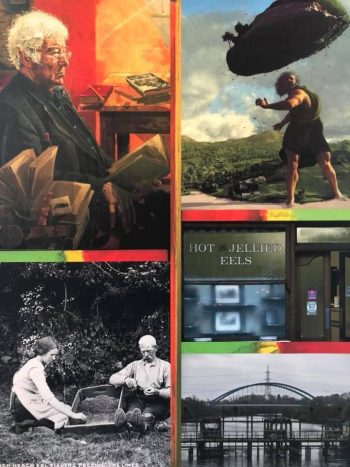 Coleraine Citizens' Wallpaper Exhibition by Martin Nangle (and soundscape by Millie Taylor) is now open and continues in our Main Gallery until 28 March.
The exhibition was officially opened by Councillor Angela Mulholland of Causeway Coast & Glens Borough Council on 29 February. This captivating photographic and sonic installation documents the natural phenomena and living communities of this spectacular area. It involves citizens' journalism, photojournalism and sound art to document contemporary life in areas across the north of Ulster from Inishowen to the Giants Causeway.
The Coleraine Citizens Wallpaper is one of four canvases that, when completed in 2022, will join a province-wide tapestry that involves community participants in the creation of a large-scale innovative artistic work. That work will feature a 65-metre-long canvas that reflects contemporary culture, tradition, citizenship and identity from the Atlantic Ocean to the Irish sea called "The Citizen's Wallpaper".
The exhibition is produced by APAC association (Associated Photojournalism for Art & Culture) and kindly supported by the Arts Council NI, Community Relations Council, Belfast City Council, Big Lottery, Department of Foreign Affairs Dublin.
---
Share This Story