10th June 2021
We're looking for creatives to join our fab practitioner team for opportunities in workshop and project delivery with an emphasis on community, wellbeing and environmental arts practice. We want to expand our current creative learning offerings to build further exciting and innovative cultural programmes. Check out the details below!

Are you a qualified and/or experienced creative teacher, practitioner or project facilitator? We're seeking to broaden our existent programmes to include more diverse artforms with an emphasis on community, wellness and environmental initiatives.

At Flowerfield, we have an auditorium with sprung floor and large film screen, workshop rooms, artist studios, media suite, pottery studio and glass kilns, and a small FabLab with 3D printers. We are also located in the beautiful and therapeutic surroundings of Flowerfield Park and want to develop creative work in this green environment as an extension of the venue's four walls.

At Roe Valley Arts & Cultural Centre, we have a larger auditorium with sprung floor and film screen, workshop rooms, and a small dance studio. The Arts Centre is located right in the centre of Limavady town and we are blessed to have the external Drumceatt Square which is used for performance events, community events and has full electrical supply.

We are also purposely building community arts programmes and site specific activities to emphasise the unique and stunning cultural heritage and natural beauty of our borough landscapes and coastlines.

If you're interested in telling us a little bit about yourself in the first instance, please email your most current CV and evidence of activity delivery to Desima.Connolly@causewaycoastandglens.gov.uk by Friday 2 July 2021, 5pm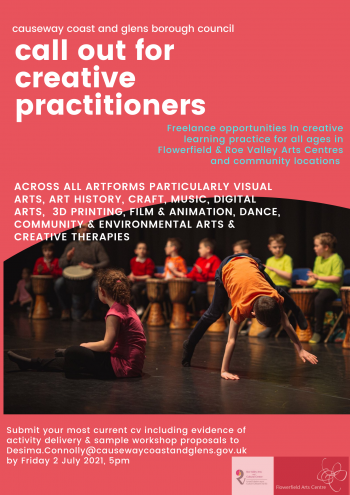 ---
Share This Story