Quiet Places by Nicola Nemec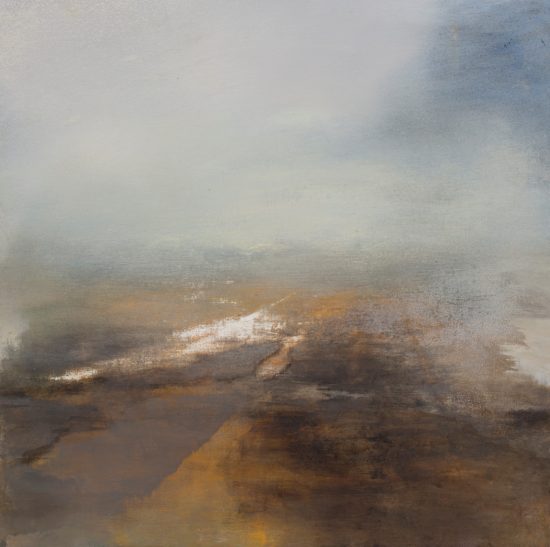 8-29 September
Born in Belfast, Nicola Nemec lives and works in Armoy, County Antrim. Her practice involves exploring the physical qualities of her chosen media. The spontaneous nature of fluid paint is exploited for its ability to create form organically. Paint is often applied and partially removed achieving subtlety of tone and texture. Her process of painting allows her to revisit a specific 'site' or a 'sense of place', layering memories and paint to create depth akin to the layering of the landscape itself.

This is Nicola's first solo exhibition since returning from a Heinrich Boll Association Residency on Achill Island. Conceived over a two year period, 'Quiet Places' is her response to an intense time working in this unique place, combined with her continual observation of the shifting climate, light and atmosphere of the North Antrim landscape in which she lives.
Recurring themes such as the contrast between distinctive man-made and natural forms, harbours, boglands, mountains and seascapes remain present in the work.
'Nicola Nemec's work does not just correspond to one particular place, but a number of related places. Her work is as much about an emotional site as a geographical site, and it is both objective and subjective simultaneously. Her creative process operates between memory, intuition, intellect and the physical reality of the painting. It evokes a powerful sense of the experience of the landscape, where deep understanding exists' - Dr Susan Liggett. Head of the Media Art and Design Research Centre,  Glyndwr University
Nicola has exhibited extensively across the UK and Ireland, including The Cavehill Gallery and Mullan Gallery in Belfast, Gordon Gallery Derry, and Gormleys Gallery Dublin. She has been made an Ambassador for the national 'It's Our World' environmental art project, and is an original member of the 'Human Nature' Art Movement. The Office of Public Works and Ecotricity have recently purchased work for their collections. 
Exhibition Launch: 
Please join us for the launch of Quiet Places on Saturday 8 September from 2-3.30pm. 
Wine reception and refreshments provided. 
Artist Talk: 
Nicola is providing a FREE talk on her exhibition and practice on Thursday 20 September at 2pm. All welcome!